5 Cool Ways to Gift Your Guests with Fall Cheer
     Good news everybody: fall is finally here! It's a time to cool down and cheer up, and with it comes those blissfully blustery days we've been waiting for. As the holidays roll steadily toward us, it's also a time to start thinking about hosting those guests of yours. After all, back when it was warm and sunny outside, there was no need to entertain your guests indoors; but now that the temperatures are dropping, we're all scrambling around our apartments trying to come up with new and improved ways to cater to our most discerning visitors! 
     But I have good news! Here are some easy ways to give the gift of fall cheer and celebrate the brisk weather. As a wise sage once said, "The easiest way to a man's heart is through his stomach," and I believe that to be true for all people. To that end, why not try some (or all 5) of these "cool" ideas to show your festive fall spirit and impress your guests all at once?
1) Fall-Themed Ice Cubes
     Let's start with the basics; offer your guests their favorite beverages featuring these creative cubes! Everyone appreciates fun ice cubes to cool down their drinks, and these little guys are sure to hit the mark.
     Since the pumpkin is a timeless autumn classic, this is the obvious shape to choose, but don't forget about those maple leaves, ghosts, and turkeys! Whatever you choose, they're sure to bring cheer!
2) Pumpkin Juice
     You have your fun-filled ice cubes, so now you need something to put them in, and I know something a familiar teenage wizard would suggest: pumpkin juice! It may sound like a strange suggestion, but pumpkin juice is sweet, refreshing, and surprisingly healthy. Filled with vitamins, minerals, and fiber, pumpkin juice can relieve cramps, keep wrinkles at bay, and help in weight loss.
     Add a touch of magic to your fall with this sweet-and-spiced treat, and it's sure to make your guests happy and hungry for more.
3) Pumpkin Ice Cream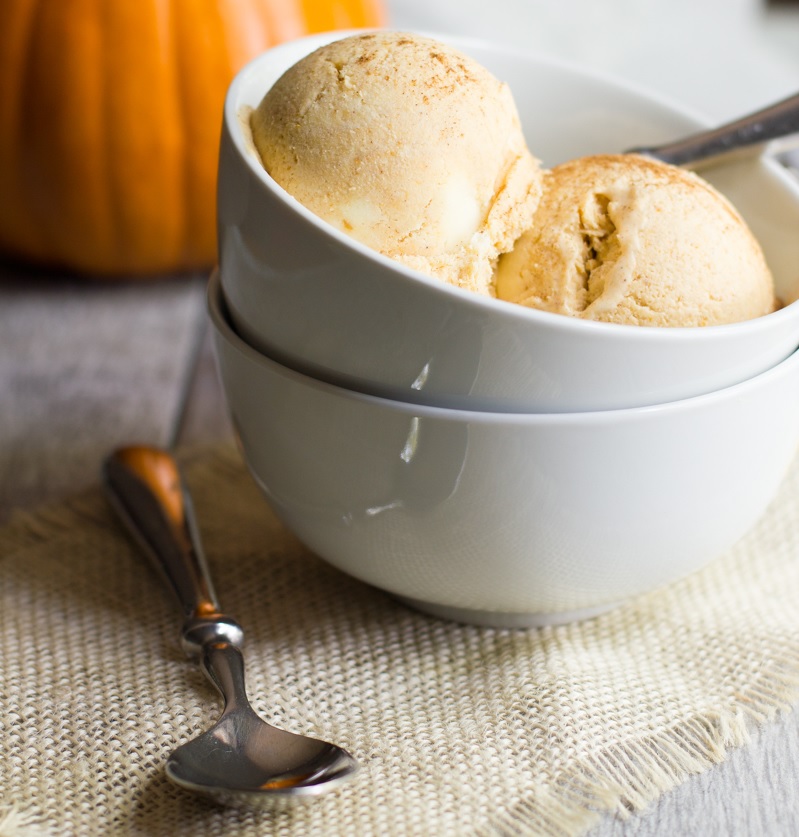 Okay, so I know what you're thinking. First he wants me to drink pumpkin and now he wants it in my ice cream? Well, don't write me off just yet; most hosts celebrating the holidays skip over a menagerie of fall desserts and straight to pumpkin pie, so by the time your guests get to you they're all pied out! But when was the last time you had rich, decadent pumpkin ice cream? Never? That's what I thought. Trust me, you'll thank me later.
4) Candy Corn Popsicles
     For those guests of yours who can't stand all the pumpkin I'm throwing your way and feel left out, here's a treat that's sure to cheer them up! Since all you really need are candy corn colors, you're free to customize your flavors however you want, food color or no. I love citrus and a bit of a bite, so for mine I do pineapple soda for the base, orange soda for the middle, and lemon-lime soda for the top. Just add a layer, freeze, and repeat for each tier! They're adorable, colorful, and the possibilities are endless! These are destined to delight guests of all ages!
5) Fall Blankets
     This next one isn't particularly chilly, but it's important to have every option at the ready to get the gold star for hosting. While there are so many frigid favorites to choose from, don't forget to provide blankets for those of us who are wimps when it comes to the cold!
     When I want to feel cozy and at home in someone's apartment, nothing helps me settle in more than the warm embrace of a soft throw, not to mention some lovely linens add that much-needed splash of color for a dazzling décor. Oranges, reds, yellows, browns, and even some purples…set your room ablaze with the colors of fall!
     Now that you have some direction for your falliday get-togethers, I'm sure you're itching to demonstrate your newfound knowledge. But Andy, we have all these sweets and need more for fall parties! Well, worry not because we've got you covered with plenty of tips to make that fall party a success!
     I'd love to see how you're putting these tips to good use with your own unique style and hear your cool ways you show fall cheer in this beautiful time of year. Tell us about your experiences on Facebook or Twitter by tagging us "@CamdenLiving" and check out some other ways we're showing our falliday spirit at our blog. We look forward to sharing the gift of fall cheer with all of you!
You might also like...
Nov 11, 2019 || Laura Brink
When you're away on vacation, the last thing you want to be thinking about is your apartment. No matter how...
Nov 04, 2019 || Amy Kirby
If you're like me, you've hosted quite a few Thanksgiving dinners over the years. This typically involves...
Nov 01, 2019 || Sami Stone
Imagine yourself curled up on the couch in your Camden apartment with a blanket on and the windows open,...