Work from Home Tips: Video Conference Etiquette
Not everyone has experience working from home, and video conferencing may be a new thing for you. So, what are a few essential tips to make video conferencing a great experience while you're working from your Camden apartment? 
First, Test Your Technology 
I don't know about you, but I have Skype, Skype for Business, Microsoft Office Teams, and Zoom. They are all very similar; but, they still need to be set up correctly. Make sure to test your equipment before your video conference starts.
Audio
First, go to Settings. You can usually find Settings by clicking on your photo/profile picture. If you look through the menu, you should see settings for devices, audio, and video. This menu is where you test your microphone, speakers, and video to ensure all the correct sources are selected. 
Video
You may need to direct the video to use your webcam instead of the webcam built into the laptop. The settings are also where you can view and set the positioning of your camera.
WiFi
Another critical piece of the equation is your WiFi. Many Camden residents have the benefit of fast internet speeds at a low rate. Now is a great time to test your current speeds and call your internet provider if you want to increase your plan. You may be surprised that only a few dollars more per month could get you even faster speeds. 
Some Audio Tips
Try to join using only one source. If you are calling in with your phone and you enter the web conference at the same time, you may get a loud, trippy echo. Either call in with your phone and skip joining the audio portion of the web conference or use the audio from your computer and save your cell data/minutes.
Using earbuds may eliminate some background noise. They can minimize an echo that could come from the speaker on your computer. Not to mention the other participants will hear you loud and clear.
Think About Camera Positioning & Lighting
Wouldn't it be nice if the camera was in the middle of your screen? The position of your camera is essential! No one wants to be looking at your ceiling, or even up your nose, so take into consideration what your audience sees. 
Drag your video conferencing screen under your webcam, so you are looking straight at the camera and have a clear view of all the talking heads. Think Brady Bunch. Wait…were the Brady's using Zoom back then?
Lighting can also make a difference. It can be distracting if we are looking at the shadow of a person sitting in front of a window with light shining behind them. Light up your face like you are a showgirl sitting in front of her Hollywood mirror! Okay, I might be being a little dramatic here.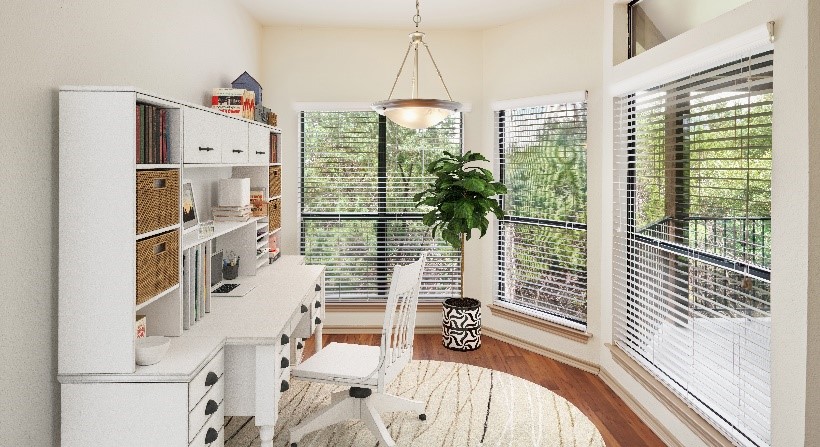 Use the Mute & Chat Functions
Once all systems are a go, and you are showgirl ready, the video conference starts. That pesky echo can still show up if your mic is live. Always be on mute-watch! Mute your mic when you are not talking and unmute when you are talking. We don't want to have to resort to sign language, am I right?
Another tip is to open the side chat. It is the icon that usually looks like a word bubble with lines in it. If you open the side chat, you won't miss any of the fun. I mean, who doesn't love the emojis?
Minimize Distractions
Let's face it. There can be distractions when you work from home. Roommates, pets, significant other, and children tend to have needs right in the middle of when you are talking on a video conference. Even if you're single, the dishes in the kitchen sink can also be a distraction.
It helps to create a space or transform a room for when you are video conferencing. A place where you can shut a door, relax, and take the call in peace.
Listen, zoom exhaustion is real. If you can use a separate space for your video conferencing, you can still establish a work-life balance while working from home.
We hope you feel more prepared after reading these video conferencing tips! We would love for you to share this blog with your colleagues, friends, and family!
You might also like...
Apr 09, 2021 || Laura Brink
As your watering eyes and sniffling nose have surely already noticed, it is officially pollen season. The...
Feb 25, 2021 || Brooke Kinert
The turn of the calendar year prompts us to make resolutions; promises to ourselves that this year will be...
Jan 28, 2021 || Laura Brink
So, you have reusable grocery bags, and you take your aluminum water bottle everywhere you go. But are you...