Why Living in Midtown was the Best Decision EVER
At SoulCycle a few weeks ago (before you roll your eyes, just give me a chance), the instructor welcomed a group of 5 flight attendants from the UK that were in town for a few days. She asked the rest of us locals to list off what makes Houston great. Naturally, we started off with food – specifically, tacos, ventured to music, artists, annual events (like the timely Houston Livestock Show and Rodeo) and rounded the list off with Bey, Queen B, the one and only, Beyonce.
As a former resident of the Midtown Houston area, I became nostalgic (which had repercussions on my choreography – another story for another day). I thought of why I moved to Midtown in the first place; I deemed it time to move out of my parent's house and wanted to cut my commute down from an hour-fifteen to just the fifteen. I thought of my Craigslist roommate and 'the sign' I encountered when meeting her to see the apartment. 'The sign' being she was friends with a friend of a friend… oh, the good ol' days. I thought of how much I broke out of my shell during those 3, almost 4, years of living in Midtown and how I owe almost all of it to my location; being in the center of it all, moving at a pace I had never experienced before and having the calm of my just-tidy-enough room to retreat to at the end of one of those too-busy days.
Now, I'm not telling anyone how to live their life, but I am eternally grateful for those years living in Midtown because they taught me SO much. So, here I am, offering you all I learned and experienced that you might appreciate on your journey.
FOOD & DRINK
 Let's face it – food rules and drinks help to wash it all down.
EVENTS & LOCAL GEMS
As a native Houstonian, the thing I appreciate most about the city is the variety; there's something for everyone.
Houston Livestock Show and Rodeo [a 20-min METRORail ride from Camden McGowen Station] I never did fully utilize the MetroRail while living in Midtown and I don't want you to make the same mistake. It's RIGHT THERE and it makes an otherwise frustrating task (getting to NRG via driving/parking or Uber-ing) SO. EASY. You'll save enough money to buy one of each of the HLSR's oh-so-tasty fried foods – you're welcome. 
Tour de Houston [begins at Houston City Hall, a 6-minute bike ride from Camden City Centre] In addition to the funds raised to benefit Houston's Reforestation Projects, the annual Tour de Houston provides an invaluable opportunity to participants to view and explore Houston as a community... via bike saddle. As a native Houstonian, this is one of my favorite rides because I've had the chance to see neighborhoods I otherwise might've never explored.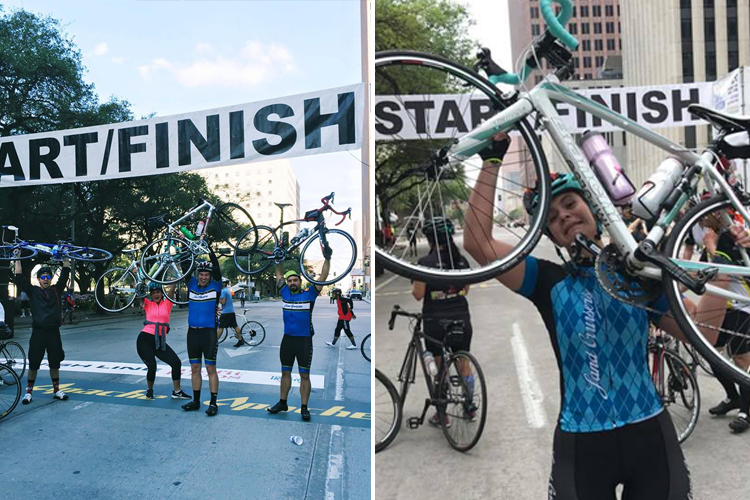 MFAH Mixed Media [at MFAH, a 7-minute METRORail ride from Camden McGowen Station] Although there are no scheduled Mixed Media events on MFAH's calendar yet, MFAH hosts a variety of events where you can indulge in art and culture and it's too close not to take advantage. 
VENTURE OUTDOORS
Or not. You do you.
And last, but certainly not least, GET THE MOST OUT OF YOUR just-tidy-enough APARTMENT HOME
Equipped with ALL the adventures to go on in Midtown (you're welcome) and the chic/cozy/conservative/quirky safe space you've created for yourself, I couldn't let you walk away without having the knowledge to fully take advantage of everything our Midtown communities have to offer, including:
A 24-hour Fitness Center
Social Lounge with WiFi
Ready to extend your Houston adventure outside of Midtown? We're here to help.
Find the best coffee in Houston, the best patios in the 610 Loop, explore Houston's vibrant art scene and take a quick road trip to the outskirts of Houston.
You might also like...
May 23, 2020 || Guest Blogger
Everyone would likely agree that quarantining due to COVID-19 has been stressful and upsetting to our lives....
May 20, 2020 || Megan Rollow
So, we're going on Week 9 of stay-at-home and work-from-home orders, and some are even looking at Week 10+....
May 15, 2020 || Brooke Middleton
Not everyone has experience working from home, and video conferencing may be a new thing for you. So, what...