Camden Cares About Central Florida
Photo courtesy of Rachel Anderson
Each year Camden communities across the country come together to help their local communities by volunteering with Camden Cares. This year, Orlando communities had the opportunity to volunteer with Second Harvest Food Bank of Central Florida.
 
Second Harvest Food Bank helps 550 local assistance programs in more than six counties across Florida. What keeps them going is their catch-phrase, "Food for today, and for tomorrow." With help from volunteers like Camden, they're able to distribute over 54 million meals to the Greater Orlando area!
 

Photos courtesy of Amy Kirby and Laurie-Ann Anderson, edited in befunky.com
Our Camden Communities were able to sort and pack 21,536 pounds of food, which equaled a total of 17,947 meals! We sorted through canned items, toiletries, frozen meats, and fresh vegetables. Our Volunteer Captain, Alex, let us know the inventory we went through was already being uploaded and available for agencies to see for distribution.
Kensley Lorvinsky, a Leasing Consultant at Camden Waterford Lakes experienced this for his first Camden Cares event. He said, "What I like most about Camden Cares is that we are able to give back to the community and the less fortunate. It feels good knowing that our actions will do good in the long run for our community...I definitely see myself going back!"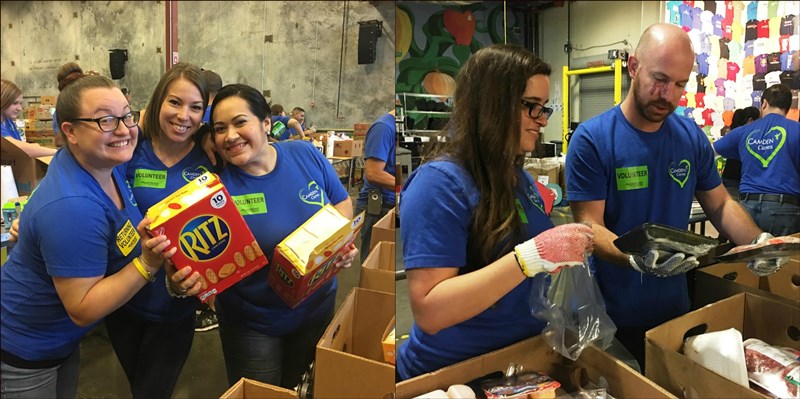 Photos courtesy of Rachel Anderson, edited in befunky.com
 
We are so glad we were able to volunteer with Second Harvest Food Bank of Central Florida. Making a difference in your community is easy; if you're interested in helping, visit their website for volunteer information or other ways to help! Camden isn't just getting involved in Orlando, check out how our communities in Raleigh are lending a hand with Camden Cares Raleigh!
You might also like...
Jan 04, 2019 || Rachel McKernan
We all know that Camden Apartments offer a great place to live with first-class amenities and amazing...
Dec 20, 2018 || Jessi Person
With an abundance of natural beauty and booming city life it's no wonder that Denver is one of the fastest...
Dec 15, 2018 || Joelle Salviati
On Monday, December 3, 2018, Camden employees from the Mid-Atlantic area got together for a Camden Cares...