How to Maximize Leg Day at Home
Summer is on the way and while many of you may think that you need to join the nearest gym, save your money and workout at home. Living at a Camden Community means you have the perfect gym right here at home! There are plenty of exercises you can do using the equipment provided to you while still maximizing your workout. Your Instagram may be flooded with tutorials on fancy workout programs, but trust me, you'll feel the burn with these 4 leg exercises!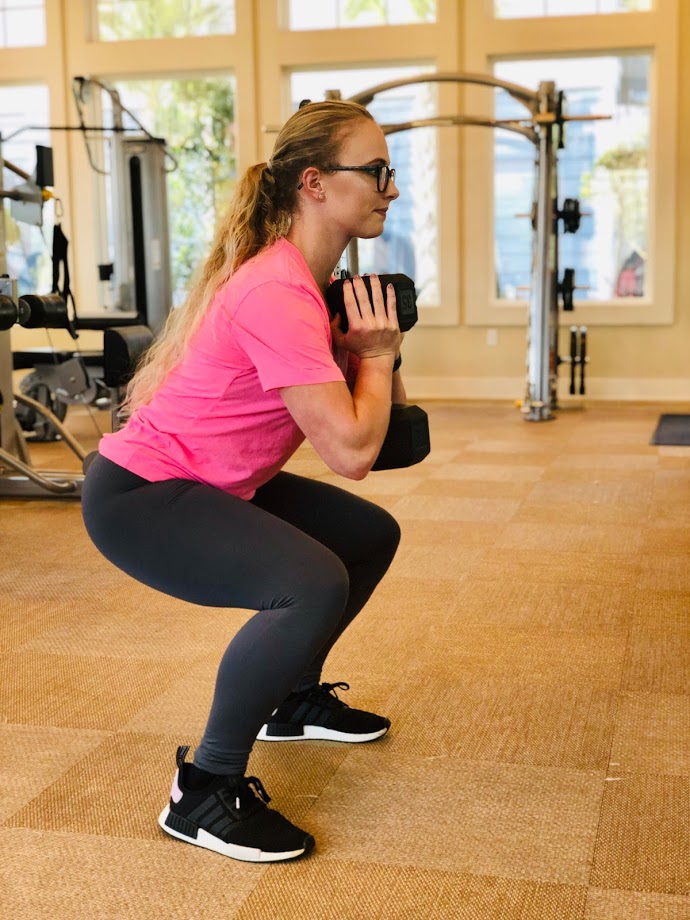 Goblet Squats
I love goblet squats because they are a full-body movement working your quads, calves, glutes, and core. Most apartments have a set of free weights, but you can use anything that's heavy and compact like a kettlebell, medicine ball, or dumbbell.
Lunges
Lunges are another great exercise to work your glutes and thighs. There are also a variety of types of lunges to increase difficulty or focus on specific muscle groups. For a challenge, try a Split Squat. For this lunge, you elevate your back foot on a platform or bench, which will place more of an emphasis on your front leg to create a balance challenge.
Hamstring Curls 
My favorite way to do a hamstring curl is using a stability ball. Complete this exercise by propping your feet up on the ball and lifting your hips toward the ceiling, while pulling the ball in with your feet. If you don't have a stability ball, try doing a lying hamstring curl with a dumbbell. You can do this by laying on your stomach and holding a light dumbbell between your feet and lifting it toward your butt.
Step Ups
Step ups are a hip-dominant exercise that utilizes your glutes and hamstrings. For this exercise you can use a bench, stairs, or a platform. For beginners, start with your bodyweight and slowly add weight with dumbbells as you advance.
*Pro-Tip: Add Supersets; this helps keep your heart rate elevated and adds a challenge!
Whether you prefer the bike, elliptical, or treadmill, finish your workout strong with a quick cardio session. If you're not sure where to get started, no worries! There are plenty of programs to help assist you! Stay tuned for more tips on how to maximize arm day by subscribing to our Simply Camden Blog.
You might also like...
May 14, 2020 || Hope Rogers
These uncertain times have shaken all of us out of our daily routines and into a new world. Due to lockdowns...
May 05, 2020 || Katie Baumann
It goes without saying that COVID-19 has changed the way many of us live our daily lives. For Camden...
Apr 22, 2020 || Katie Baumann
It's no secret that fresh air can heal our minds and bodies. Regular participation in outdoor activities can...