5 Ways to Stay Warm in Cold Weather
Living in the Carolina's we are not really used to getting weather below 32 degrees outside. So I thought I would give some helpful tips on how to stay warm during the cold weather!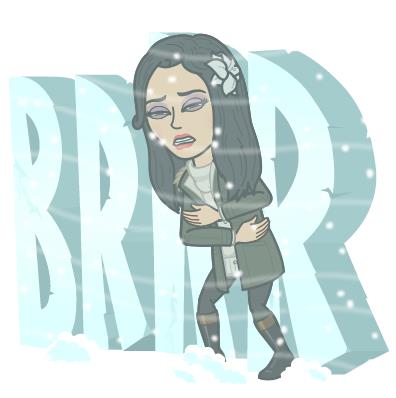 1.  Stay Hydrated!  
          One of the most important things to help keep you body warm is to stay hydrated. Drinking lots of water will help keep the blood flowing and help regulate your internal body temperature. 
2. Layers Layers Layers!
           It's not just a funny anecdote from the a famous holiday movie. During the colder weather, layering up with some old fashioned "long johns" followed by at least 2 other layers on top and warm socks can make all the difference when its below freezing outside. If your not a fan of "long johns" I love love love knee high sweater socks from Target! They cover, keep my legs warm, and aren't bad looking either!  
3. Wear well fitting clothing.
           Clothing that fits just right is definitely the way to go in colder weather. Clothes that are too tight may cut circulation and restrict blood flow. On the other hand, clothes that are too baggy will let in cold air and wont keep any natural body heat in. Again, layers are your friend. 
4. Take care of your winter wear! 
            We all have that coat in the closet that gets used 1 time a year for just these types of occasions. Make sure your coats, hats, scarves, and gloves are tear and hole free. You can always get a really great inexpensive fleece set at Old Navy. Being the bargain shopper I am, I have always found the best deals there for winter wear. 
5.  Cover up!
            The less skin exposed outside the better. Scarves should cover the entire neck and chest area, Hats should cover the ears and forehead, and of course gloves are a must. If you are worried about being able to use your smart phone, they make gloves that work with smart phones now! You can find brands like Under Armour, Nike, and North Face on Amazon to get some fast. 
I hope this helps everyone stay warm and toasty out there! For more tips on Winter Weather or any other Lifestyle blogs, check out Simply Camden! 
You might also like...
Jul 09, 2018 || Laura Brink
I do not have to tell you what time of year it is. We step outside and we know right away, it is summertime...
Jul 06, 2018 || Madi Hayes
3 Mini Road Trips for Your Summer Bucket List   While our skyline is beautiful, and our city is rich with...
Jun 27, 2018 || Gilbert Duenez
Glendale, California is a beautiful suburb located just north of Downtown Los Angeles.   The address at 3900...