5 Holiday Party Hacks
With work, parties, gifting, and events, the holiday season can get pretty hectic. Most party planners stress during their party, instead of enjoying the time with friends and family. These are five different hacks you can incorporate when hosting a party in your Camden apartment to make everything a lot easier!
1. No Cook Appetizers
One thing that will bring everyone together is food. You've been slaving away in the kitchen all day making the main course and sides, the last thing you want to do is make appetizers. One way to make the food preparation easier is to incorporate no cook appetizers to your menu. They require little prep work but taste delicious! Below are a couple recipes you can try this season, easy yet still have the wow factor.
           Photo courtesy of cupcakes and cashmere
2. Premium Plastic Dinner Ware
After a full night of festivity and fun, the last thing you want to do is load the dishwasher and clean the pots and pans. You can trade in your ceramic plates for these premium plastic disposal plates; it will cut the time spent cleaning in half! Parties are for enjoying the time with family and friends, not sitting at the sink cleaning.
Photo courtesy of Pexels.com
3. Cookie Exchange for Dessert
A great way to incorporate your guests is having a cookie exchange for dessert! Your guests can sign up to bring a type of cookie. Throughout the night, all for the guests can vote for their favorite cookie, and the winner receives a prize! Now you don't have to make desserts for everyone, and at the end of the night, everyone can leave with their own box of cookies as a small gift.
            Photo Courtesy of Handle the Heat
4. Photo Booth  
Every year there's always designated time for a group family photo. Now with a photo booth, your guests can take pictures throughout the night. You can personalize the booth with the year and different props. Instead of running around all night taking pictures of everyone, they can take pictures all night. This will not only keep guests occupied before the meal, but they will also have a time stamp of cute pictures from your party! All you need is some wrapping paper, small ornaments, props, and imagination. DIY photo booths are inexpensive and so much fun for guests.
          Photo courtesy of our fifth house
5. Wrapped Boxes for Festive Trash Containers
During any holiday party there will be gift giving. Some presents might be wrapped while others are not. If you decide to play Secret Santa or White Elephant there will be some unwrapping of gifts. Make cleaning up the mess way easier with this little hack. Wrap a large box with wrapping paper. You can use butcher paper and write "Secret Santa" or wrap it with cute paper. Once all of the gifts are distributed, you can use the same box to collect the trash! This will help keep the area clean as the game goes, so you don't have to run around at the end of the night picking up the trash.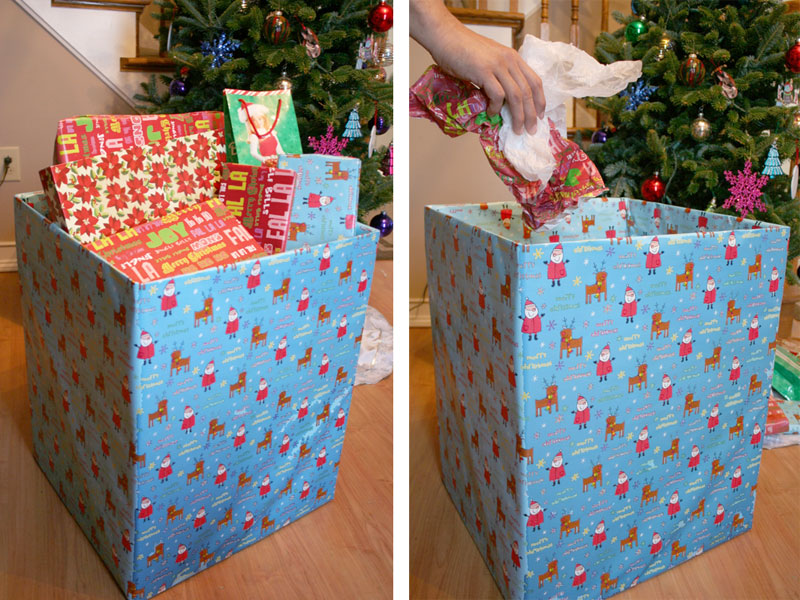 Photo courtesy of Chica and Jo
It's the peak of the holiday season! Enjoy these hosting hacks as you plan and throw your own party in your Camden apartment. They will help you enjoy your party and give you more time to spend with friends and family. Still preparing your holiday party agenda? Check out these holiday party game ideas and holiday inspired cocktails!
You might also like...
Dec 05, 2019 || Maurielle Yao
There's so much to do in Orlando! There are tons of amusement parks like Disney World, Universal Studios,...
Dec 03, 2019 || Hope Rogers
It's the most wonderful time of the year! As Thanksgiving draws to a close and the holidays approach, it is...
Dec 02, 2019 || Sami Stone
  The season of giving is upon us, and Do-It-Yourself gifts are the perfect project for those of you who...