2 DIY Secrets to Giving Gram-Worthy Gifts
The best part about these DIYs is they're not limited to a season. Sure, pompoms are more common when the temperatures dip, but who's going to turn away a pompom in Spring? Not I.
The second best part of these DIYs is you only need a few materials and you can craft them in the comfort of your Camden apartment home. You will never again have to sift through gift wrap leftovers if you tend to procrastinate like I do.  
DIY #1 – The Art of the Bow
For your DIY bow, you'll need:
*To create bows to match your wrapping paper, follow the tutorial.
*Wrapping paper purchased from Home Goods.
For my bow, I used a Target catalog that had a few pages dedicated to denim. And boy, do I love denim. You'll need to cut 9 strips of paper ¾" wide with the lengths pictured below:
Next, you'll want to wrap and glue each end of 8 strips of paper like the gif below, being careful not to create a crease.
You will then glue the two ends of the shortest strip of paper to create a ring. All your pieces should look something like the picture below:
Working longest to shortest, and alternating direction, build your bow by gluing the back center of each piece, starting with the second piece. See gif below: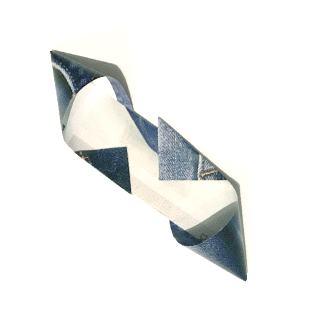 Use the double-sided tape to accessorize your wrapped gift.
DIY #2 – This Gift is AwePOM!
For the PomPom, you'll need:
Wrap your yarn around your fork for smaller pompoms, or wrap around 3 or 4 of your fingers for larger pompoms. The more times you wrap your yarn, the fluffier the pompom. When satisfied, cut your yarn to end the wrap. Then, cut a separate *2 feet+ piece of yarn.

*This length depends on the size of the gift. Measure out by wrapping the yarn around your gift and adding 4 to 6 inches. If you prefer to eyeball it, this is approximately a hand-length of yarn, from wrist to tip of your middle finger.

Next, fold your *2 feet piece of string in half.
Where folded, pull through the center-most prongs of your fork or the center of your fingers.
Tip: Use a paperclip to push the yarn through the small opening of the fork
Bring the two ends of the string up and through the loop you just pulled through the prongs and cinch tight.
Once cinched, separate the ends wrap around the pompom, loop and knot.

Photo c/o Leah Zavala

Gather the extra string in one hand and turn your pompom so that the knot is facing right or left and the loops you've created are facing you. Cut all the loops in the center; spinning your pompom as you go to make sure you haven't missed any. This is not your finished pompom.
Finally, you'll trim all sides of your pompom, continuing to hold the extra string away as you cut. Trim until you're satisfied with the fluff.
Tie your finished pompom around your wrapped gift or trim the extra string and use a hot glue gun to attach. Now, go Gift it for the 'Gram!
If you still need to shop, Oprah's Favorite Things for Your Apartment is a good place to start.
Need a quick and easy (on the wallet) gift idea instead? Try these Holiday Potpourri Jars. 
Online shopping? Make sure your holiday shipping will make it in time with these secure package delivery locations.
You might also like...
Jun 17, 2020 || Laura Brink
Father's Day is almost here! Sunday, June 21 is the big day, and if you are a last-minute shopper, this post...
Dec 28, 2019 || Madison Kash
Have you heard of our innovative coworking space, CoWork by Camden? If not, read the exciting blog about its...
Dec 05, 2019 || Guest Blogger
There's so much to do in Orlando! There are tons of amusement parks like Disney World, Universal Studios,...