How to Add Pops of Color to Your Apartment
Don't be afraid of adding colors in your apartment decor.  Colors make things brighter, happier, and inviting!  I get my apartment decor inspiration from Jonathan Adler.  He knows how to incorporate colors in the most fashionable and chic ways. 
Jonathan had a show room in JC Penny stores for a period of time and you can still purchase select JA items on their website.  The pricing is much lower than his bouquet stores found in Los Angeles and Orange County.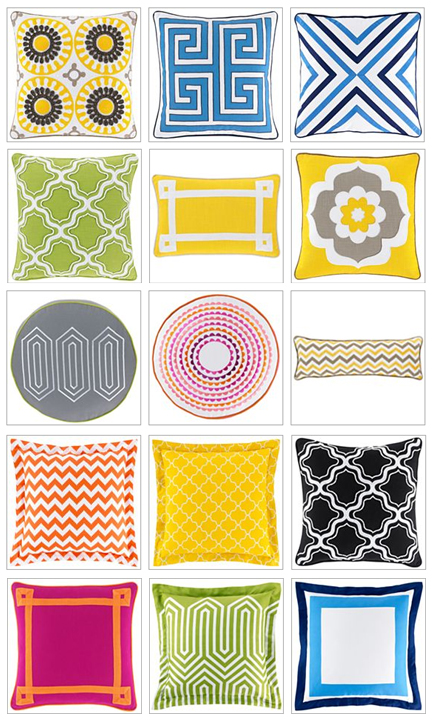 Jonathan Adler colorful, fabulous pillows.
https://roomfu.com/fab-finds-jonathan-adler-happy-chic-jcpenney/
I don't have a Jonathan Adler budget, but I do incorporate cool and fun things from Home Goods, Marshalls, Target, and IKEA to get the look.  Come with me as I show you around my apartment at Camden Harbor View, in Long Beach, CA.
Pillows can make all of the difference.  If your apartment gets a lot of natural light, then the colors you incorporate are going to pop even more!  My sofa is primarily white with hints of grey, and I really had the chance to take a risk and use colorful pillows to brighten up the sofa and living area.
My Camden Apartment – Have fun with pillows!  They make a big statement.
Accessories, Accessories, Accessories!  You can have so much fun adding quirky and colorful things to a book shelf or entertainment center.  Tip: Repeat color accents.  If you are going to be bold with color, make sure you repeat the same colors to that it has a color flow.  Books are also a great way to get color to a specific area of your apartment.  Who says a book shelf is only for books?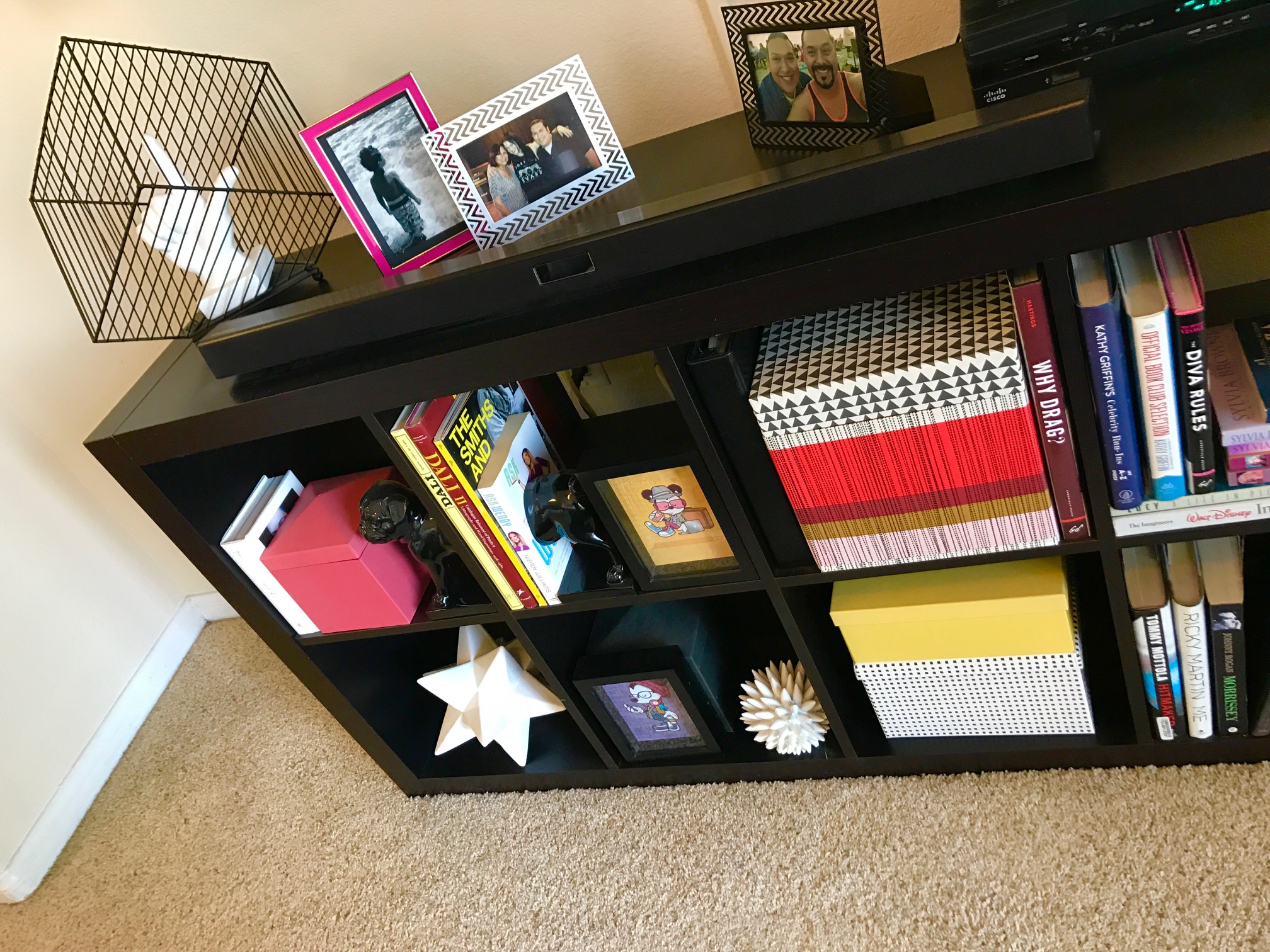 My Camden Apartment - Pops of color in my book shelf highlight some of the colors found in my pillows and art pieces
Art work and accents also add a lot of character to your apartment.  Where to start? Jonathan Adler says "Your home should reflect who you are, so pick a palette that's close to your heart and run with it." I truly believe this.  When I shop around for new décor in my apartment, I need the object to speak to me and I need to envision where the object is going to be placed.  Play around with what you currently have and maybe a piece in your living room gets moved to the bedroom or visa versa.  If you have the same concept throughout your apartment, this will work just fine.  It is also fun to mix things up a little.
My Camden Apartment - A bright flower in a simple white pot, brighten up any space. Colorful art pieces are a sure stand out!
If you are looking to bring some pops of color into your space, hopefully this blog brought some courage to you.  Your Camden team member can also show you some accent paint colors for your Camden apartment that will surely dress up your space. 
Also, these blogs can help get some color and brightness to your apartment: 6 Best Plants For Apartments and 3 Easy Ways To Brighten Up Your Apartment.
"Any color works if you push it to the extreme." – Massimo Vigelli
You might also like...
Apr 17, 2020 || Madison Kash
Finding the perfect new apartment home can be quite the endeavor, even when there isn't a stay-at-home...
Apr 07, 2020 || Laura Brink
Whether you're used to a busy office, traveling for work, or you already know how to work from home, settling...
Mar 05, 2020 || Jennifer Robinson
Four years ago, I decided to take the leap and go back to college to get my degree. It was not an easy...