Three Good Reasons to Live in a Non-Smoking Apartment Community
At Camden, providing Living Excellence is our number one priority. If our residents request something that will genuinely improve their quality of life, we listen to them! Whether it's updating our pet guidelines to accommodate an additional furry friend or hosting exciting events, we work hard to foster the lifestyle our residents want. When the majority of our residents told us they would like to live in a non-smoking apartment community for health and environmental reasons, we decided to make that transition!
If you are thinking about moving, here are three good reasons to live in a non-smoking community:
(Image courtesy of Unsplash)
Live in a cleaner, greener community.
Harmless as it may seem, a cigarette butt is not biodegradable. According to a study published by the National Center for Biotechnology Information, cigarette butts are the most common kind of litter on earth; 4.5 trillion of them are discarded annually! Although a cigarette butt may break down into tiny pieces, the chemical particles do not actually go away; instead, they contribute to environmental pollution by making their way into our air and water supply. If you would rather steer clear of those toxins, a non-smoking community would be a safer bet.
(Image courtesy of Shutterstock)
Breathe easy in a healthy environment.
The American Cancer Society states there is no safe exposure to secondhand smoke, because it contains over 7,000 chemicals, including at least 70 that are known to cause cancer. It also affects the heart and blood vessels of non-smokers, increasing the risk of heart attack and stroke.
When you choose to live in a non-smoking community, you lessen your exposure to these health complications and can enjoy the carefree lifestyle of breathing easy in a healthy environment!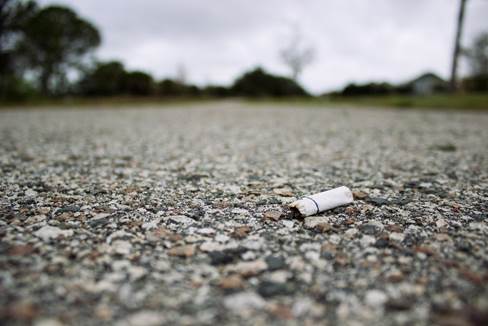 (Image courtesy of Unsplash)
Reduce the risk of fire.
According to the National Fire Protection Association, still-smoldering cigarettes are a major contributor to fires. Cigarette butts and other smoking materials left in a trash or waste bin account for 23% of all smoking-related fires. Including e-cigarettes, smoking materials are the leading cause of death in home fires. While highly unlikely and unintentional, it's important to be aware that fires can happen anywhere and living in a non-smoking community can lower that risk.
Start searching for your new apartment in a non-smoking environment today! All Camden communities in Atlanta, Georgia now proudly offer non-smoking living! We are also adding new non-smoking communities all over the country. Simply visit camdenliving.com, select your desired community, and check out the "Live Green" amenities to see if your community is non-smoking.
You might also like...
Dec 05, 2019 || Brooke Kinert
We are delighted to announce the latest addition to the Camden family - Camden Carolinian. This 186 apartment...
Dec 05, 2019 || Laura Brink
The time has come for you to rent an apartment and there are some basic things you need to know! With so many...
Dec 05, 2019 || Maurielle Yao
There's so much to do in Orlando! There are tons of amusement parks like Disney World, Universal Studios,...