Take Ten In Our Zen Den
There are many benefits to working for a company that has gone paperless. Not only does it help the environment, but it helps keep our Chi levels high here at Camden Old Creek. Let me explain and introduce you to Camden Old Creek's Zen Den!
Our Zen Den is a storage closet we converted from file storage into a Zen Den.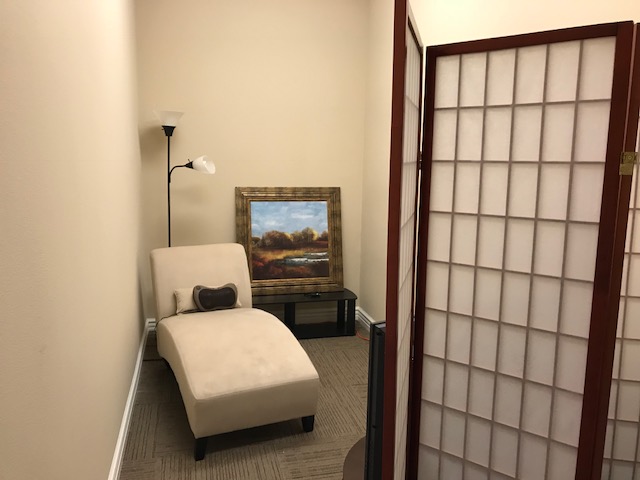 Inspired by an idea from our district manager, Kameryn Evans, we took a small dream and turned it into a big reality for the team at Camden Old Creek. It was simple, inexpensive, and just took some muscle from the office and maintenance team.
Here is our how-to and can hopefully inspire you to create a zen space in your Camden apartment!:
We found a place away from the noise and bright lights. For us, this was a long narrow storage room we used to use for filing.
A fresh coat of paint was applied where storage shelves used to be.
A plush chaise lounge chair on sale for only $160 on Wayfair.com became the focal part of comfort and relaxation.  
A $12 oil diffuser and some essential oils are used for de-stressing, concentration, and energizing (on our break of course!)
     5. A $39 Fire Stick from Amazon.com when added to an old TV we have, provides Zen Spa music.
     6. The best addition was the Shiatsu deep kneading back massage pillow for $32, which has done wonders for everyone! 
7. A couple pieces of art from old office remodels and old model units were used for décor (free).
We are still looking for a water feature we can hang on the wall for the final touch. Come visit Camden Old Creek, we would love to show you our Zen Den.  After you perfect your Zen Den in your apartment try sprucing up your balcony! 
You might also like...
Sep 23, 2017 || Jenny Lowery
 Essential oils have many benefits to improve your health, mood, and home. If you are taking your first dive...
Jul 20, 2017 || Colette LaPorte
There are many benefits to "stay-cations" and if you live in Austin there is always something to do!  Whether...
Jun 18, 2017 || Andy Hagler
Father's Day is just around the corner, and the race is on to find the perfect gift for that special man in...