Camden Cares Austin Edition
photo courtesy of Jennifer Glenn
At Camden helping people and organizations is what we do.  With 'Always Do the Right Thing' as one of our core values, Camden understands that there is always a need to help others.  Every year Camden's across the nation participate in volunteering with a local organization and this year some of our Austin team members volunteered their afternoon at the Central Texas Food Bank.  Nearly 46,000 Central Texans count on the Central Texas Food Bank each week to provide nutritious food for them and their families that they could not otherwise afford.  The Food Bank relies on donations and volunteers in order to meet the needs our community.  
Our Austin team volunteered over the course of two afternoons and put in 6 hours of hard work!  We got our hands dirty by sorting through canned goods, sorting and peeling over 3,500 pounds of onions, 11,782 pounds of frozen meal, and packaging the meals to be picked up by those in need.  All of our hard work provided 12,734 meals for the greater Austin area!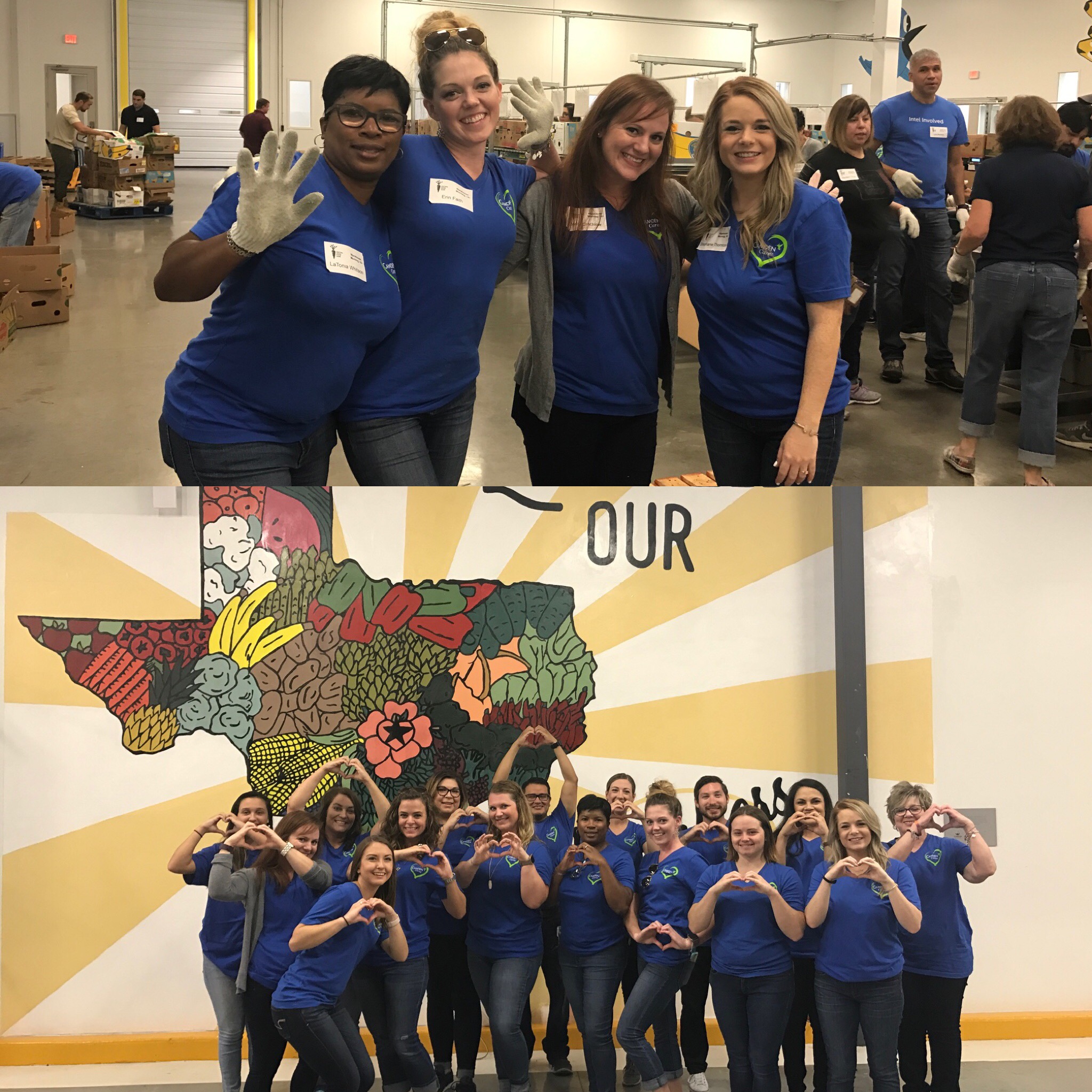 "The day gave us the opportunity to see that it is not just companies who voluneteer, but families and individuals who come out and give their time."   Latonia Whitson who has been with Camden for 21 years shared how volunteering with Camden Cares improves her work experience.  
"Camden Cares means giving back to our community while enjoying spending time with coworkers outside of the office.  It is one of my favorite days."  Valerie Carter with Camden Stoneleigh shared her experience.
"It was wonderful to be able to get together with my Camden Family and other companies for such a great cause.  It's amazing to know that we collectively provided 12,734 meals to those in need.  Camden really does care."  Candice Voigt, Community Manager at Camden Cedar Hills shared how the experience influenced her. 
Volunteers are the heart and soul of the Food Bank.  Thankfully there are many different ways to give your time and you can find the perfect option for you on their website.  With all of our different locations within the Austin area, no matter what Camden community you live at you are not too far away to volunteer!  
You might also like...
Sep 13, 2018 || Rachel Anderson
We all know moving can be stressful and overwhelming, especially if you are relocating to a new city. Here at...
Aug 29, 2018 || Gilbert Duenez
Keeping you informed of the awesome Camden transfer program, it's time to spotlight our amazing communities...
Aug 27, 2018 || Rachel McKernan
We all know that Camden Apartments offer a great place to live with our first-class amenities and amazing...