3 Must Have Thanksgiving Side Dishes!
Do you love gaining 5 pounds in one day? Do you love eating carbs? Do you love sticks of butter? If your answer is YES! Read this blog! I have 3 of the most AMAZING must have recipes to make your Thanksgiving memorable in 2014! I'm no Iron Chef, but when it comes to Thanksgiving I do not play around with my food. One of these recipes below is over 30 years old and it just gets better with time! My favorite part about Thanksgiving is making the recipe my own and experimenting in the kitchen! Check out these recipes and let me know if you have any memorable Thanksgiving recipes you would like to share! Happy Turkey Day Everyone!
1.) Baked Mashed Potatoes with Parmesan Cheese and Bread Crumbs
INGREDIENTS
DIRECTIONS
Preheat the oven to 400 degrees F. Coat a 13 by 9 by 2-inch 
baking dish
 with 1 tablespoon of butter and set aside. 
Cook the potatoes in a large pot of boiling salted water until they are very tender, about 15 minutes. 
Drain
; return the potatoes to the same pot and 
mash
 well. Mix in the milk and melted butter. Mix in the mozzarella and 3/4 cup of the Parmesan. Season, to taste, with salt and pepper. Transfer the potatoes to the prepared baking dish. Stir the bread crumbs and remaining 1/4 cup of Parmesan in a small bowl to 
blend
. Sprinkle the bread crumb mixture over the mashed potatoes. Recipe can be prepared up to this point 6 hours ahead of time; cover and chill. 
Bake, uncovered, until the topping is golden brown, about 20 minutes.
2.) Best EVER Green Bean Casserole 
INGREDIENTS
FOR THE TOPPING:
FOR BEANS AND SAUCE:
DIRECTIONS
Preheat the oven to 475 degrees F. 
Combine the onions, flour, panko and salt in a large mixing bowl and toss to combine. Coat a 
sheet pan
 with nonstick cooking spray and evenly spread the onions on the pan. Place the pan on the middle rack of the oven and bake until golden brown, approximately 30 minutes. Toss the onions 2 to 3 times during cooking. Once done, remove from the oven and set aside until ready to use. Turn the oven down to 400 degrees F. 
While the 
onions
 are cooking, prepare the beans. Bring a gallon of water and 2 tablespoons of salt to a boil in an 8-quart 
saucepan.
 Add the beans and 
blanch
 for 5 minutes. Drain in a 
colander
 and immediately plunge the beans into a large bowl of ice water to stop the cooking. 
Drain
 and set aside. 
Melt
 the butter in a 12-inch cast iron skillet set over medium-high heat. Add the mushrooms, 1 teaspoon salt and pepper and cook, stirring occasionally, until the 
mushrooms
 begin to give up some of their liquid, approximately 4 to 5 minutes. Add the garlic and 
nutmeg
 and continue to cook for another 1 to 2 minutes. Sprinkle the flour over the mixture and stir to combine. Cook for 1 minute. Add the broth and 
simmer
 for 1 minute. Decrease the heat to medium-low and add the half-and-half. Cook until the mixture thickens, stirring occasionally, approximately 6 to 8 minutes. 
Remove from the heat and stir in 1/4 of the onions and all of the green beans. Top with the remaining onions. Place into the oven and bake until bubbly, approximately 15 minutes. Remove and serve immediately.
3.) Mom's Best Stuffing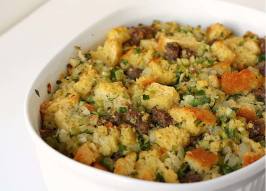 INGREDIENTS
Directions:
Saute sausage until brown; remove from pan and cut into small bites.
In a large skillet, melt butter and cook onion, celery, and mushrooms over medium heat for 3 minutes or until softened.
Transfer sausage and veggies, including any butter that is left in the pan to a bowl.
Add stuffing mix, bread cubes, sage, thyme, poultry seasoning, salt, pepper, pecans, turkey stock, and eggs.
Toss well and adjust seasoning.
Stuffing should be moist but not soggy. Add more stock if needed.
Transfer to a baking dish.
Bake in a 325 degree Fahrenheit oven for 20 minutes covered and 10 minutes uncovered until heated through and crust forms on top.
Stuff it into a big fat turkey.
You might also like...
Nov 11, 2019 || Laura Brink
When you're away on vacation, the last thing you want to be thinking about is your apartment. No matter how...
Nov 04, 2019 || Amy Kirby
If you're like me, you've hosted quite a few Thanksgiving dinners over the years. This typically involves...
Nov 01, 2019 || Sami Stone
Imagine yourself curled up on the couch in your Camden apartment with a blanket on and the windows open,...